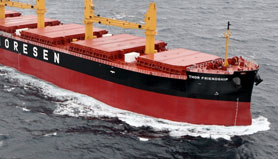 ASSOCIATE COMPANIES

Under the leadership of Chairman Mr. Prayudh Mahagitsiri, PM Group manages the businesses of various subsidiaries with assets valued over USD 2 billion. The company also holds a stake in Thoresen Thai Agencies PLC, a strategic investment holding company with three primary business groups - Transport, Energy, and Infrastructure, as well as many other associate companies such as POSCO Thainox PLC and Mermaid Maritime PLC.

UNIQUE MINING SERVICES PCL
TTA's another subsidiary Unique Mining Services Public Company Limited ("UMS") imports superior quality coal from Indonesia with medium calorific value which create low environment impacts. UMS main target clientele in the medium and small-sized categories are the food and beverage industries, pulp and paper industries and textile industries. The company is listed on the Stock Exchange of Thailand.